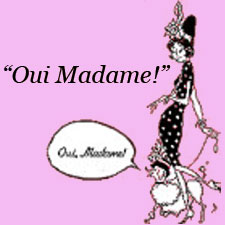 Welcome to "Oui, Madame!"
Vicki Hofstetter is the owner of "Oui, Madame!" located at 550 Lincoln Avenue in Winnetka, IL. The French-inspired boutique holds a unique place in the heart of the North Shore and Chicagoland area. It sells Parisian one-of-a-kind jewelry, fashion, books, gifts, and accessories, most are direct from Paris.  Madame Hofstetter says, "We have been told that stepping into "Oui, Madame!" is like walking into a whimsical store off Rue Saint-Honoré.  Often, we hear how unique and special our merchandise is, and some clients have jokingly told us they can stop shopping in Paris since we fill so many of their needs."
Stop in to see wonderful and unique gifts, not just for your friends, but for yourself, all with a French flair.
COME AND SEE US AT 550 LINCOLN AVE., WINNETKA
REACH OUT TO US AT 847- 441- 0182